Non-profit organization iN Education recently implemented Incentive Solutions technology to kick off a reward program that drives better approaches to childhood education.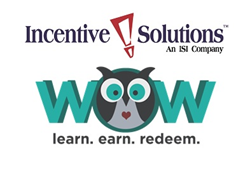 Atlanta incentive company
Incentive Solutions
has demonstrated commitment to the resource most crucial to Atlanta's future prosperity: its children. Along with participation in the Children's Healthcare of Atlanta Distinguished Clown Corps and helping raise funds and school and classroom necessities for Agape's Great Backpack Give-Away, Incentive Solutions has partnered with the non-profit organization iN Education, whose mission is to increase national Standardized Testing averages and instill the value of education in schoolchildren. iN Education uses Incentive Solutions technology to offer an educational incentive program called WOW Education Rewards, designed to motivate children to perform well and participate in school. An
inaugural raffle
is underway to support the program's launch.
Initiating change in America's overall approach to education is what drives W
OW Education Rewards, according to founder DeAndre Nixon, who is disturbed by the fact that the U.S., supposedly the greatest nation in the world, has a college drop-out rate of over 50%,
worse than that of any other developed country
. Nixon believes that America's attitude toward education—on both institutional and individual levels—is to blame for this fact.
"Failing school districts continue to get more federal funding, up to $18,000 per child," he says. Rather than receiving solutions to the issues that plague them, struggling schools receive more funding to continue operating at a failing status quo. This issue filters down to parents, as well. Nixon says he's spoken to many parents who admit they still reward their child with allowances and presents, even if they score well below average. "With WOW Education Rewards," Nixon says, "we're not giving rewards to kids, they're earning them."
Students enrolled in WOW Education Rewards will be able to earn online "points" for good grades (C or better), outstanding attendance records, participating in extracurricular activities, getting involved in community service and more. They can then spend these points on items in Incentive Solutions' online catalog, which carries millions of rewards, such as books, movies, music, toys, electronics and more. By rewarding a variety of behaviors, iN Education aims to promote well-rounded, positive education values in its participants. Powerful incentive program technology allows WOW Education Rewards to be more than just a reward system, but also a behavior modification and tracking tool.
"We have a Facebook-like profile for each individual participating," Nixon explains. "Imagine if you've always documented your achievements, from preK through 12th. Our system is more than just rewards—it's your life and your entire education history. We can start to look at trends. We can look at how people develop and learn what motivates them."
WOW Education Rewards will be an equal-opportunity, open enrollment reward program for any and all parents who want to change attitudes toward education and invest in their children's future. By motivating children with education rewards, parents can keep children engaged with their scholastic achievements and instill in them a lifelong appreciation of continued education.
About Incentive Solutions
Incentive Solutions, Inc. was founded in 1994 and is based in Atlanta, GA. Part of The ISI Group, consisting of Incentive Solutions,
Loyaltyworks
and
Travel Solutions
, Incentive Solutions offers online rewards, travel incentives and debit card reward programs. Since its creation, Incentive Solutions has been an innovator in the incentive industry by utilizing emerging online technologies that help companies increase sales, engage and motivate employees, encourage customer loyalty, create positive work environments, and enrich sales channel relationships.
Incentive Solutions
1-866-567-7432
2299 Perimeter Park Drive, Suite 150
Atlanta GA 30341